Friends of Baker Park along with Frederick City have undertaken the restoration of the Culler Memorial Bench adjacent to Culler Lake. The memorial bench was originally unveiled in January 1940 following a speech by then Governor Herbert R. O'Conner recognizing Lloyd Culler, the 7-term mayor of Frederick.
The memorial bench had originally held a sundial on one end-pedestal and a water fountain on the other, both of which had long since disappeared. In addition to the City cleaning and repointing the mortar on the bench, Friends of Baker Park solicited design proposals from local artists and metal workers to replace the original sundial.
The chosen design submitted by Charles Crum of Fountainworks Studio was installed on the bench in December and consists of an analemmatic sundial design, which requires a moveable gnomon, thereby offering interactive and educational components to the sundial. The viewer is invited to supply the missing gnomon perhaps by using a nearby stick, pen, or even a finger placed on the sundial, casting a shadow towards the time of day. The design fosters awareness of the motion of the sun and earth through the seasons and is uniquely calibrated for the sundial's longitude and latitude. A short verse on the face of the sundial instructs the viewer on how to use the sundial.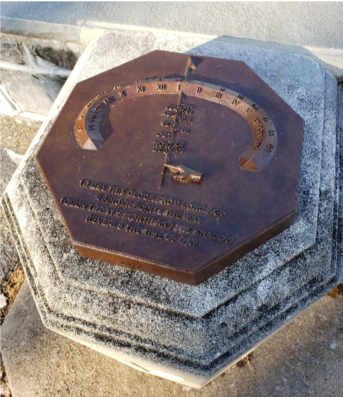 To use this clock from long ago a finger points the way

Touch today's month and the shadow

reveals the time of day
Educational lesson plans appropriate for late elementary to early high school students are being written by the artist and Frederick County Public School Educator Charles Crum. They will soon be available for download from the Friends of Baker Park website.
Look for other lesson plans about Baker Park landmarks, water conservation and sustainability coming from Friends of Baker Park in cooperation with Hood College and Visit Frederick.